I was at a sushi restaurant the other night.
It was crowded, and I was only there because I wanted traffic to die down before I began a long drive home. So I sat at the bar and just ordered some food.
As I was waiting for my order, a guy walks up to the two empty bar stools next to me. He asks the bartender if he can sit there. She says no.
"Sorry, there's a 45 minute wait. You need to put your name down in the front."
She barely looks up at him.
"But these two seats are just empty–"
"You NEED to put your name down, sir," she repeats.
The man, dressed in a casual outfit with sneakers and a hat, shrugs and walks out as quickly as he had walked in.
I just heard the conversation around me, but barely saw the man myself.
No sooner did he leave than a lady near me said to the bartender, "Umm…you just said no to Justin Bieber!"
The look on the bartender's face was priceless.
The man pictured above is Joshua Bell. He's an internationally acclaimed virtuoso, one of the finest classical musicians in the world, and he sells out concert halls wherever he performs. No one debates this; just read about him if you don't believe me. The guy is a Jedi.
What makes this story absolutely amazing is that the man depicted in this video in a ballcap and jeans is also Joshua Bell.
Just 3 days after he sold out Boston's Symphony Hall to a packed auditorium, Bell was busking incognito in the middle of morning rush hour at a crowded D.C. subway station at L'Enfant Plaza. He played six classical pieces for nearly an hour, and of the 1,097 people who walked right by him, 27 of them stopped to put a total of $32.17 in his violin case. The violin itself that he was playing that day was worth over $3.5 million. Had they known it was him, for the same one-hour performance, people would have paid thousands of dollars to hear him perform.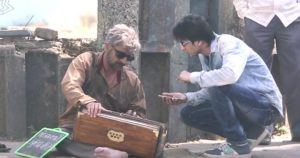 The man dressed as a beggar above, barefoot and in sunglasses, is none other than Sonu Nigam, one of India's most popular playback singers. On this day, in an unassuming street in New Delhi, he disguises himself as a homeless man and sits under a tree, and then proceeds to sing and play music like he always does. The cars that drive right past him are likely blaring his music on the radios inside. Only one young man who is mesmerized by the music stops and gives the roadside musician 12 rupees. "You have an amazing voice, sir," the man says. Nigam would later say he felt grateful for those 12 rupees, given that most people that day skipped him entirely.
After these very similar social experiments, both Bell and Nigam said something very poignant. It was odd for both to feel overlooked. As Bell recounted:
"It was a strange feeling, that people were actually, ah . . ."
The word doesn't come easily.
". . . ignoring me."
Or, having to deal with the awkward, thunderous silence that followed the end of a song.
Or, the fact that people were flipping coins at them.
Some, even pennies. Pennies.
"At a music hall," Bell said, "I'll get upset if someone coughs or if someone's cellphone goes off. But here, my expectations quickly diminished. I started to appreciate any acknowledgment, even a slight glance up. I was oddly grateful when someone threw in a dollar instead of change."
So here's the question – same music, by the same men, on the same instruments, with the same passion. Why the difference in reception?
Was it them? The way they looked? The way they dressed?
Was it us? Were we too busy catching the train or running to our next meeting?
Or was it the context? Are we just not equipped to find beauty in all places? How much does presentation really matter to us?
I'll let you be the judge. But here's another way of thinking about it, as one writer put it: "If we don't have time to stop and listen to two of the world's greatest musicians, how many other things are we missing out on in life?"
As parents, I think we can relate to this.
For example, Jiya doesn't discriminate as easily as I do. Much to our dismay, she is spoiled rotten with toys and gifts from friends and family. But put in front of her a brand new pink car or an empty cardboard box, and she'll immediately show you how many things can be done with a piece of cardboard.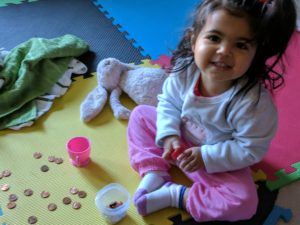 Or ask her to choose between a shiny dollhouse and an old piece of tupperware, and she'll make soup, tea, and coffee all from the same Rubbermade, using pennies of course.
Pennies.
Beauty is everywhere we want it to be.
What is this life if, full of care,

We have no time to stand and stare.

— from "Leisure," by W.H. Davies
Amen to that…..
To your family's success,